Global Bible Initiative
Global Bible Initiative (Formerly Asia Bible Society) is an entity established solely for the purpose of Bible translation, assembling and supporting teams of scholars, editors, stylists, and proofreaders in many Bible translation projects under way in Asia, providing a systematic approach and methodology to Bible translation, developing software tools and platforms for better practices and collaboration of group efforts, researching on language analysis, and processing in Biblical studies. Visit website...
Holman Bible Publishers, a Division of B&H Publishing Group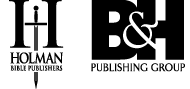 From its original core of Bibles, textbooks, and reference titles, B&H Publishing Group a LifeWay division of the Southern Baptist Convention has blossomed into a major publisher of Christian living, fiction, home school, youth, history, and other categories. In 2004, the company's Holman Bible Publishers division introduced the new Holman Christian Standard Bible (HCSB) translation and is also the largest publisher of Spanish language Bibles in the United States. Visit website...